Advancement of research and translation of evidence into pediatric physical therapy practice is one of the goals of the Academy of Pediatric Physical Therapy Strategic Plan.
To meet this goal, the Academy carries out a number of activities to support and promote research, including research grants, research awards, research summits, and review of abstracts for conferences. Click on the links above for more information.
Researcher of the Month - Stacey C Dusing, PT, PhD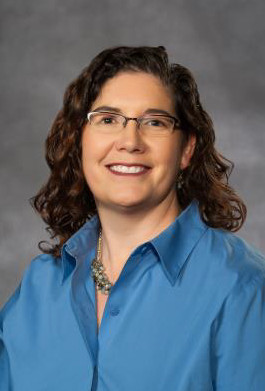 Stacey C Dusing
PT, PhD
Stacey C. Dusing, PT, PhD is Board Certified in Pediatric Physical Therapy and an Associate Professor in the Department of Physical Therapy at Virginia Commonwealth (VCU). She has joint appointments in Psychology and Pediatrics, a clinical appoitment at the Children's Hospital of Richmond. She received her BS in Physical Therapy for Daemen College and her MS and PhD in Human Movement Science from the University of North Carolina at Chapel Hill. She also participated in the NIH funded Comprehensive Opportunities in Rehabilitation Related Training (CORRT) at the University of Delaware. Dr. Dusing is the Director of the Motor Development Lab Lab at VCU, which is moving into a new state of the art College of Health Professions building this month.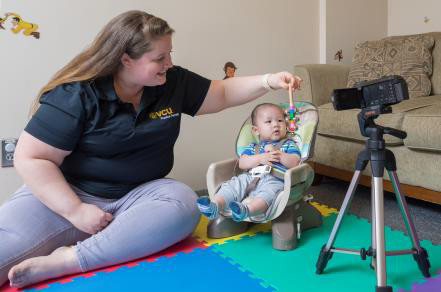 Motor Development Lab at VCU
Her research focuses on motor learning and control in infants and early detection and treatment of motor and cognitive impairments in children at high-risk of disabilities. The overarching goal of Dr. Motor Development Lab at VCU Dusing's research is to understand the impact of experience on early learning and to understand the mechanisms and key principles of intervention needed to minimize the severity of motor and cognitive impairments in infants and children born preterm or with brain insults. Dr. Dusing's research has been funded by the National Institutes of Health, Institute of Education Sciences at the Department of Education, Foundation for Physical Therapy, AD Williams Foundation, and the Section on Pediatrics of the APTA.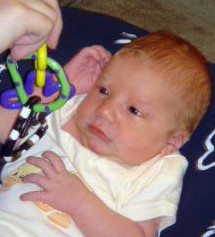 SPEEDI
Early Infant Exploration
Dr. Dusing and her collaborators at VCU and the University of Virginia were recently awarded a $2.84 million grant from the National Institutes of Health to facilitate a multi-site clinical trial, "Efficacy of Motor SPEEDI: Early Infant and Cognitive Intervention for Infants Born Preterm (SPEEDI2). This clinical trial will evaluate Exploration the efficacy of an intervention coined Supporting Play, Exploration, & Early Development Intervention START-Play (SPEEDI) based on its key principles of engaging infants and families in early play designed to enhance exploratory motor actions and problem solving. This clinical trial will compare 3 groups; usual care, beginning intervention in the Neonatal Intensive Care Unit and bridging to the community, and beginning the same intervention approach at 3 months of adjusted age.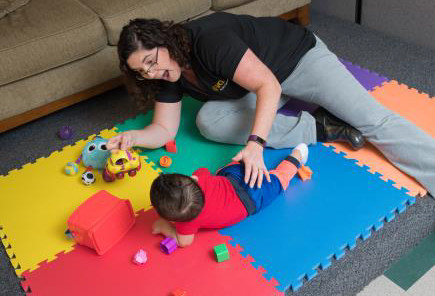 START-Play Dr. Dusing is the VCU Site PI for the Sitting Together and Reaching To Play (START-Play) multisite clinical trial lead by Reggie Harbourne. This study, which recently closed to enrollment, is designed to compare the START-Play intervention focused on jointly advancing motor and cognitive skills in children, provided 2 times a week, with usual care for infants 7-16 months of age. In addition to comparing the outcomes of the interventions, this study will provide a direct measure of the usual care services provided in 5 areas of the United States. This multi-site team including Harbourne, Lobo, Westcott-McCoy, Boviard, and Dusing aim to continue this research to advance our understanding of the impact of dose, in addition to the key principles of intervention, on motor and cognitive outcomes.
For more insight into START-Play go to https://youtu.be/ZrIo0zXgkdQ
Currently Funded Research Grants by APPT
2019 APPT Research Grants
Mentored Research Grant ($9,480) - "Early Intervention for the Caregiver-Infant Dyad with Neonatal Abstinence Syndrome: A Case Series" by Kara Boynewicz, PT, DPT, ATC, Board-Certified Clinical Specialist in Pediatric Physical Therapy;
Mentored Research Grant ($7,352.99) - "Examination of a Power Leg Press (PLP) Test in Cerebral Palsy: Reliability, Sensitivity to Change and Functional Significance" by Mattie Pontiff, PT, DPT;
Mentored Research Grant ($9,999.77) - "Comprehensive Measurement of Intervention Fidelity" by Kimberley S. Scott, PT, DPT, Board-Certified Clinical Specialist in Pediatric Physical Therapy;
Research Grant 2 ($9,971) - "Participation of students with disabilities on school trips: Parent experiences and perceptions" by Kimberly D. Wynarczuk, PT, PhD, MPH, Board-Certified Clinical Specialist in Pediatric Physical Therapy.
April 2018 Cycle:
Mentored grant ($9,500) went to Megan Flores for her study titled: An investigation of trunk control in young children with Down Syndrome
September 2018 Cycle ($86,352):
Mentored grant ($9,675) to Jason Cook titled Caring for Children with Severe Cerebral Palsy: The Lived Experience of Parents.
Mentored grant ($10,000) to Jeongah Kim titled Using Exploratory Learning to Encourage Selective Hip-knee Joint Movement in Infants Born Full-term and Very Preterm
Research II grant ($9,765) to Alyssa Fiss titled Gaining insight and Understanding of Experiential Learning in Pediatrics PT Education.
Research I grant ($27,081) to Kristin Krosschell titled Mixed Methods Study of Utilization Patterns of Modified Ride on Vehicles for Kids With Developmental Delay
Research I grant ($29,831) to Barbara Sargent titled Understanding Selective Motor Control of Infants at High Risk for Cerebral Palsy
Research Spotlight - May 2019
Thubi H.A. Kolobe, PT, PhD, FAPTA is a Professor and the Ann Taylor Chair for Pediatrics and Developmental Disabilities at the University of Oklahoma Health Sciences Center. She received her doctoral training in pediatric physical therapy at Hahnemann University (now Drexel University). Dr. Kolobe is also a co-developer of the Test of Infant Motor Performance (TIMP) for preterm infants, a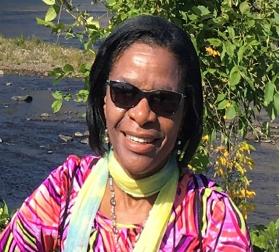 norm-referenced test that is used worldwide. Her current research focuses on movement learning and skill acquisition in infants with or at risk for cerebral palsy. The overarching goal of Dr. Kolobe's research is to prevent developmental delays and reduce the significant functional limitations, cognitive and educational achievement gaps that are experienced by many infants with brain insult. Dr. Kolobe's research also seeks to understand neural correlates of infant motor learning. Although research suggests that interventions that produce sustained gains tend to also show changes in brain structure and functioning, the brain-behavior relationship during infant learning of complex motor skills is poorly understood. Dr. Kolobe's research has been funded by the National Institutes of Health (NIH), National Science Foundation (NSF), Foundation for Physical Therapy, Presbyterian Foundation, and the Section on Pediatrics of the APTA.
Dr. Kolobe and her collaborators have recently completed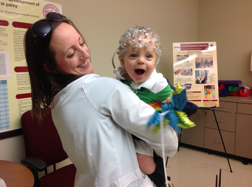 a five-year $1.2 million NSF funded study on prone locomotion in infants with and without CP. The study, which expanded on an earlier NIH funded validation study of the Self-Initiated Prone Progression Crawler (SIPPC) system, explored how infants with and without brain insult learn to use the SIPPC system to explore and crawl. A collection of robotics and sensor technology, the SIPPC system is not only a training device, but it also captures, promotes, and measures movement learning in very young infants in real time. Another unique feature of the system is that it rewards self-initiated movement effort, however subtle, and permits error learning, thus enabling researchers to test the effectiveness of two prominent approaches in motor learning; reinforcement and error-based learning. Reinforcement movement learning has gained prominence in the movement science literature and has shown the potential to accelerate movement learning in adults. The benefits for very young infants, particularly those brain insult such as with CP, are unknown. Indeed, very little is known about how infants with brain insult learn new motor skills.
Self-initiated prone locomotion occurs in typical infants as young as 6 months of age and is believed to be integrated with other systems essential for development, school readiness, and social interactions, such as vision, arousal, and perceptual-cognition, making it a pivotal target for intervention. Robotic and sensor technology like the SIPPC allows us to teach a skill before it emerges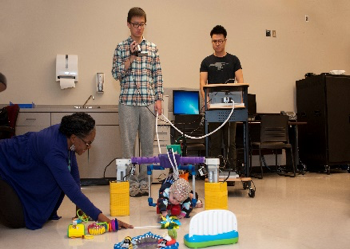 or fails, thus enabling us in real time to capture and study the evolution of learning strategies. For interventions to promote neuroplastic changes and skill acquisition in infants, integration of at least 5 things is important: task-specific training, novelty, high repetition, stretching performance boundaries, cognitive orientation, reward- and error-based feedback. Technology can provide all 5 at the same time.
Currently, Dr. Kolobe is also a Co-PI on a funded 4-year $1.6 million IES grant (Dr. Sandy Arnold (PI) and Dr. Everett Smith (Co-PI)). The goal of this national study is to validate the School Outcome Measure (SOM) for children with disabilities who are receiving school-based physical and occupation therapy services. When completed the SOM will be ready for use as an outcome measure in school settings.
Research Spotlight - December 2018
Noelle Moreau, PT, PhD is an Associate Professor of physical therapy at Louisiana State University Health Sciences Center in New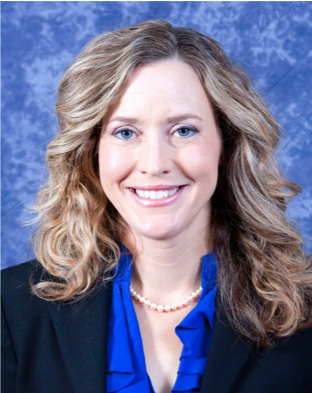 Orleans. Dr. Moreau received her doctoral training in biomechanics at Louisiana State University and completed a postdoctoral fellowship in movement sciences at Washington University in St. Louis. Dr. Moreau's research focuses on the investigation of the neuromuscular mechanisms underlying abnormal muscle function and movement impairments in children with cerebral palsy. The overarching goal of Dr. Moreau's research is the development of effective rehabilitation strategies to address these impairments and improve activity, participation, and quality of life. Dr. Moreau's research has been funded through the National Institutes of Health (NIH), Thrasher Research Fund, Pedal-with-Pete Foundation, American Physical Therapy Association (APTA), and the Section on Pediatrics of the APTA.
Dr. Moreau was recently awarded a $2.5 million R01 grant from the NIH's National Institute of Child Health and Human Development for a clinical trial to investigate the effects of a novel, high intensity power training program on functional walking capacity, neuromuscular function, and community-based activity and participation in children and adolescents with cerebral palsy. Power Training combined with Interval Treadmill Training (PT3) Â targets muscle power deficits specifically in order to drive changes in walking activity for children with cerebral palsy. Current rehabilitation practice utilizes motor learning principles related to specificity of practice, or task-specific training, for improving walking in those with neurological disorders, such as cerebral palsy.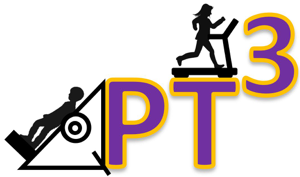 However, this traditional singular approach fails to address the underlying muscular mechanisms responsible for the walking limitations and has not been shown to be more effective than other therapies in people with spinal cord injury, stroke, and cerebral palsy. The theoretical premise for PT3 is innovative in that it will address muscle power, a key ingredient that is missing from current clinical practice for children with cerebral palsy, and will combine it in a package of care with a task-specific training protocol that allows the participants to practice using muscle power generation during the functional task of walking. Another unique feature of this project is that mobile sensing technology will be used to directly measure walking activity and participation out in the community before and after the intervention. PT3 is an innovative departure from current rehabilitation practice with strong potential for improving mobility outcomes in ambulatory children with CP. Dr. Moreau at LSUHSC in New Orleans will partner with Dr. Kristie Bjornson at Seattle Children's Research Institute for this multi-site clinical trial.